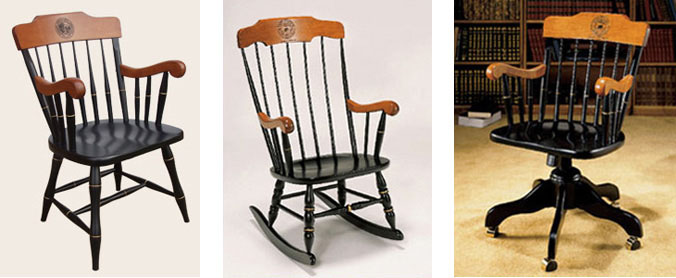 Captain's Chair
Manufactured for the KU Alumni Association by Standard Chair of Gardner, a firm famous for its quality craftsmanship, our captain's chair with the engraved KU seal will make the perfect addition to your home or office. The solid hardwood frame is hand-finished in black lacquer with cherry finish arms and back. The chair is priced at $450.
Boston Rocker
Not recommended for outdoor use on a regular basis as the beautiful finish–one of the features of the chairs that our customers are often most enthusiastic about–will wear out. (But the engraving won't.) This classic rocker is priced at $450.
Swivel Desk Chair
The Swivel Desk Chair is the newest offering in our line of commemorative chairs. The top is in the same design as our college chair. The bottom offers maximum flexibility of movement and provides an extra measure of comfort. This perfect addition to the home office is priced at $625.
All chairs can be customized with up to thirty characters with name, degree and class year, or any saying desired for an additional charge.
Jayhawk Lamp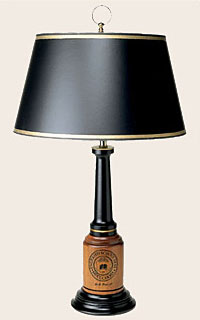 While the primary focus of our business is on college chairs, many of our customers have asked for and enjoyed these lamps. They make an excellent matching set with a Standard Chair. Or, of course, they can stand alone.
Each lamp has a unique two-way setting mechanism that allows you to set it at either regular light for reading, office work, etc. or at an economy setting for a dimmer light that uses less electricity. Please note: the lamp does not take 3-way bulbs; it's designed for use with standard 1-way light bulbs only.
The engraving is just as sharp and fine as that on the chairs. And it won't wear out. If you're not sure whether you want a chair or a lamp – or both! – call us and one of our staff members can help you choose what's best for your recipient. This lamp is priced at $260